The Tropicanas come armed with sunshine and Piña coladas with their new track, 'Piece By Piece'
Ironically named due to Scotland's often gloomy weather and their desire for warmer climates and surfier times, The Tropicanas represent West Lothian with their off kilter brand of chilled grooves!

The Tropicanas
The listener sits; phone in one palm, bluetooth speaker in the other. Their heart races a little – a decision is to be made. An audible gulp. Will it be the wintery tones of Bon Iver or perhaps the Folklore era of Taylor Swift…?
They look up, their eyes meeting the expectant crowd at the party. It's make or break time, baby, gotta have the right vibes otherwise…

The phone is ripped out of their hand. They stare as you frantically type and proceed to play, 'Piece By Piece'.
"But why…" they begin.
"Summer is a frame of mind, mate. Not a season." You ruffle their hair affectionately and the whole room vibrates with good vibes and bodies moving in harmony together. Single-handedly… you… have saved the party. Someone hands you a Piña colada and a pair of sunglasses (think Terminator from Terminator 2) float onto your face, crowning you as the ultimate cool kid.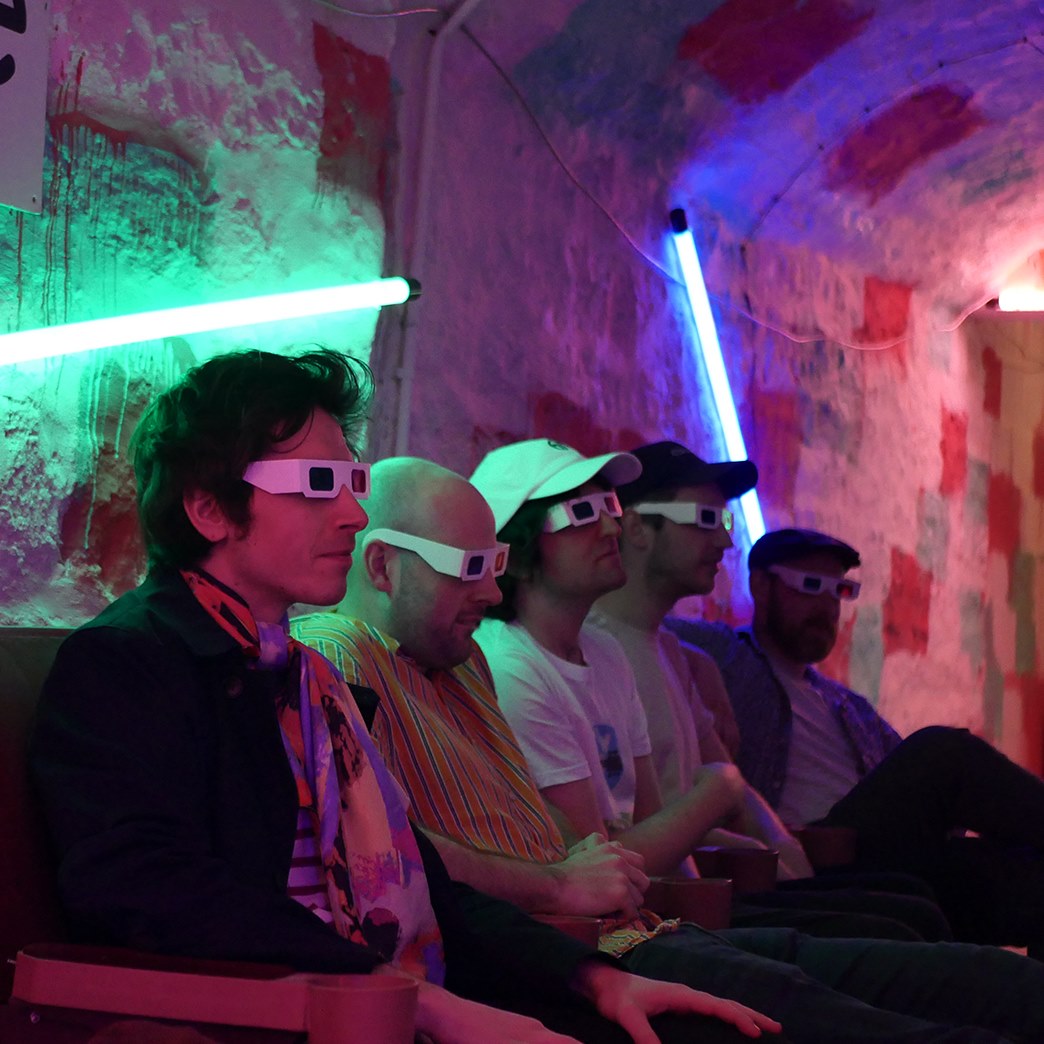 They describe themselves as a 'tropical surf band from outer space'; a five-piece indie set from West Lothian (properly indie, too – they're currently unsigned apart from a partnership with Aussie label 'End of the Pier Records' – party on, Wayne) endorsed by Robert Carlisle & affectionately known as 'The Trops'. We've got Andrew Burns (guitar / vocals), Ruaridh MacPherson (drums / guitar / vocals), Joe Murty (bass / vocals), Joe White (guitar / drums) & Ryan MacPherson (synth).
Their previous single, 'Pop Snuff-It', has a gorgeous, dreamy tone & a music video with a comforting, home-made feel to it. Although you can feel some Tame Impala slip into there, they're definitely not over-produced – they feel incredibly authentic and passionate about the music they're making. Growing up with the age of manufactured, shiny pop groups it's refreshing to have a group of genuine mates come together to make dream-pop.
But we're not here for 'Pop Snuff-It', oh no. We've got a sparkly, new single to open.
'Piece by Piece' is set to release on 28th October (pre-save it here!) but -somehow- we managed to have a sneaky listen before it goes live. My initial thoughts are that autumn may be upon us, but the summer vibe has returned, I've got my shades on and I'm basking in their dreamy atmosphere. You could easily imagine it as the soundtrack to your own indie romance film, dancing through the leaves with a manic pixie dream girl by your side.
We've got playful guitar riffs from the get-go and, a personal favourite, harmonised 'aaahs' from the whole band in an early Beatles style which add to the hazy feel (the physical embodiment of a hazy New England IPA – juicy, light & tasty af). Lines like, "I'm trying now to feel better" and "take it piece by piece, girl" hold the promise of brighter days ahead and uplifted moods. If you're a fan of Vampire Weekend meeting The Libertines then I think you'll be a fan of The Trops (I feel like we're basically besties at this point, what an adorable nickname). Summer is most definitely a frame of mind & The Trops have it. Party on, Garth!!
Listen to more from The Tropicanas on Spotify:
For more information on The Tropicanas, click through to their Linktree, here. Artists/ bands interested in interviews and reviews with IAMUR can get in touch with the team, here.
---